Hello Fellow Riders!
I've been asked 100+ times, why in the hell would you ride a motorcycle and put yourself into harms way? "Well", I tell them, "it is a freedom that cannot be expressed in words, you just need to experience it for yourself." That is such a true statement that many fellow riders share. Even today, there is nothing that beats the wind rushing past you while cruising down some back country roads.
In 2012, I joined the biker community. Purchased a used 2002 Honda Shadow Spirit from a friends dad that only had a little over 3,000 miles. The bike was practically brand new and barely broke in. It was a great learning bike, being a 750, it wasn't under powered and gave me plenty of thrills, especially after adding Vance and Hines Cruiser exhaust system. Honestly didn't realize how loud the bike was until I sold it to a guy that lived close by and I could hear him every time he rode past the house.
In 2014, I decided it was time to step it up. This way, both, my wife and I would be more comfortable on longer rides. I sold the Honda and purchased a brand new 2014 Victory Cross Country in pearl white metallic with black engine. It was basically stock and worked with the dealer to install the following: touring windshield, passenger foot boards, passenger back rest and tri-oval exhaust (made by Cobra Performance). The below picture shows how the bike was the first year of ownership. Made for some great sightseeing tours around Lake Erie. The picture below was taken at the Marblehead Lighthouse.
Last year, I upgraded the seat to the Ultimate Seat, WHAT A DIFFERENCE! So much more comfortable than the stock seat. Maybe it's because I don't ride as much as I would like, but the new seat give both my wife and I more comfort while on longer trips. It also added the driver back rest which gives me more support and options while riding.
I also added the trunk. This give much more storage and lighting from the back. There is a row of LED lights that assist in visibility during night time riding. It also provides additional support from the passenger backrest for my wife. Although she's tiny, she feels more secure. The 2 added speakers allow my wife to also hear the radio while we're cruising and I don't have to turn up the volume so loud. You can see the trunk also in the picture above.
This year, I decided that the white was not bright enough at night and added 8 LED light strips around the bike. 2 - front brake calipers, 1 under each side of the gas tank, 1 behind each "cheese wedge" (shows off the V-Twin) and 1 under each saddle bag. This gives an awesome glow. The kit was installed by FastLEDs during the 2016 Ohio Bike Week Rally in Sandusky, OH. They did an amazing job. Here are a bunch of pictures of each of the colors that I have to choose from.
My favorite: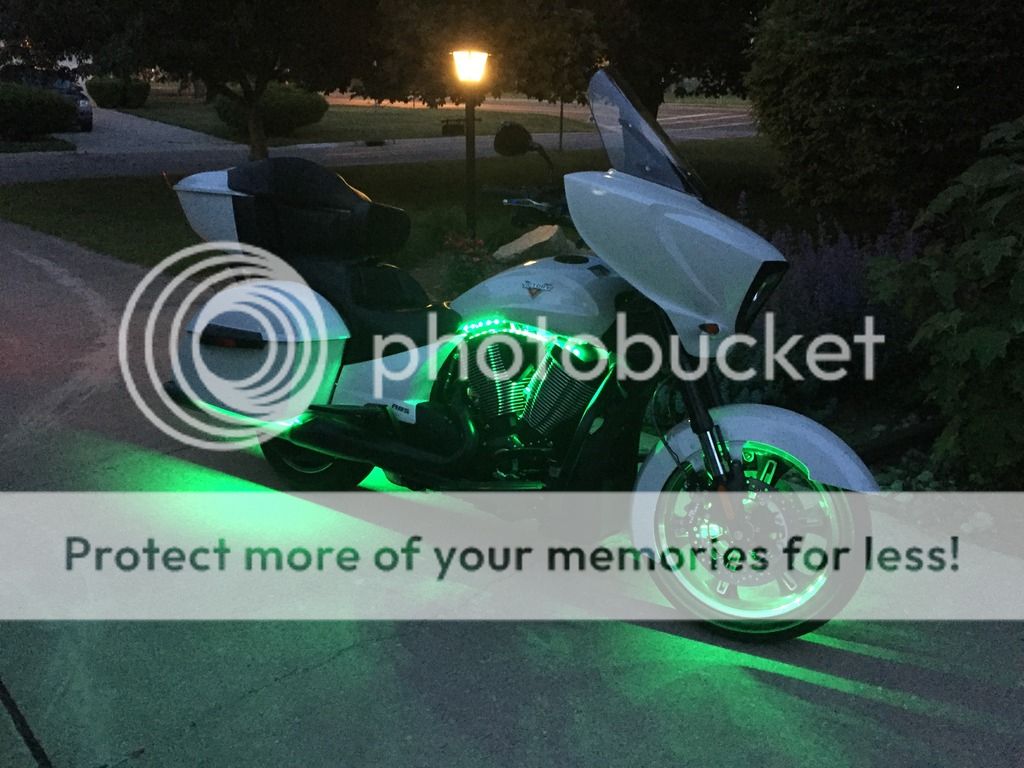 With a bike, you meet new people and make new friends. The biker community is not full of "hard ass biker dudes" it's full of everyday people that find an escape from everyday life.
Out for now. Keep the rubber on the ground and the shiny side up!
VCC